TOURS /AREQUIPA / PERÚ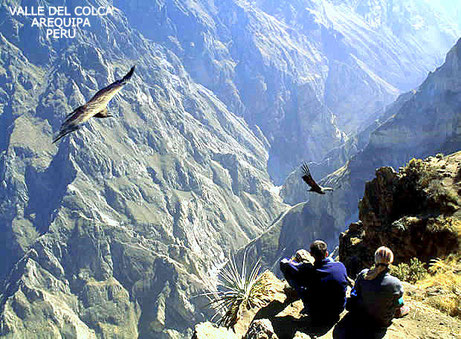 Día 1: AREQUIPA / CHIVAY
 - Breakfast.
- Early morning departure to the Colca Canyon, located
180 km from the city with a journey of approximately 05 hours of travel,
crossing a spectacular natural scenery, highlands and characteristic villages
like Yura, Snowy, Chachani, Volcano, Misti, Cañahuas, Viscachani, Tojra, Patapampa.
It will also pass through the National Reserve of Salinas and Aguada Blanca, where they live
Imperturbable numerous specimens of vicuñas, llamas, alpacas. Travel with
natural scenery and typical altiplanic landscape. Arrival to the town of Chivay and / or
Yanque and arrival at the Hotel.
- Lunch.
- Free afternoon with the possibility to optionally visit the Thermal Baths.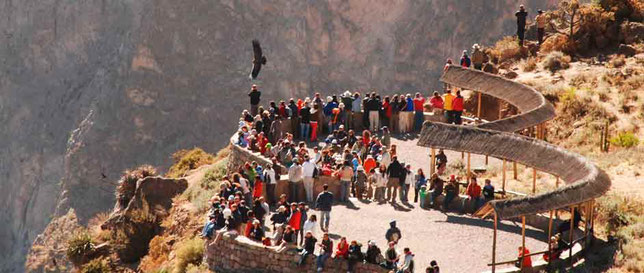 Day 2: CAÑON DEL COLCA / AREQUIPA
Breakfast at the hotel.
In the early morning, departure to the "Cruz del Cóndor", privileged point
observation of the flight of the condors, as well as a beautiful landscape and the
depth of the Canyon. Visit to the villages of the Colca Valley and observation of
pre-Inca agricultural terraces. Continuation of the trip and return to Arequipa.
It includes:
• Transportation
• English / Spanish guide
• Accommodation
• Entrance to the Canyon: Foreigners S / 70.00
                             Thermal baths S / 15.00
Does not include:
• Lunches and dinner
HOTELES
CASA ANDINA                             DWB       $ 507,05   CWB
POZO DEL CIELO / Habitación Standard    $ 506,82
POZO DEL CIELO / Habitación Superior     $ 560,87  
HOTEL GRANADA                                        $ 482,67   $543,73
COLCA INN                                                 $ 472,32   $ 544,88
POSADA DELCOLCA                                    $ 462,07

Information to the mail internationalschool.santiago@gmail.com