OUTDOOR ACTIVITIES, PUBBING AND EXCURSIONS IN AND AROUND SANTIAGO
We have programmed a number of tours and outdoor activities in and around Santiago so as to give our students of Spanish a deeper view of Chilean society and culture.
Family Hostel Fun Meeting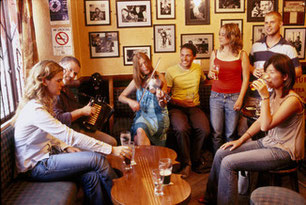 PUBBING IN SPANISH 
Join us every Friday for a Family Hostel Meeting. This activity is open for anyone interested at a pub near Lastarria Neighbourhood, where you can chat with other students, have a drink and, above all, have fun.
VIOLIN LESSONS AT FAMILY HOSTEL !
If you love music  and the violin, you can learn to play  and enjoy this grand instrument and enjoy it, with a professional instructor who can help you and guide you to get the best from music. For further information write to us : familyhostelstgo@gmail.com.
Outdoor activities and tours around Santiago
- House & Museum Pablo Neruda
- Precolombian Museum
- Museum of Fine Arts
- La Moneda Palace & Cultural Center
- National Library
- Planetarium of Santiago
Isla Negra and Wine
The sea, poetry and wine. A romantic combination. Discover Chile's prestigious wines and two of the most relevant cellars where they are produced.Don´t miss it!
Come and taste the best vineyards
Casablanca, on the way to the Central Coast, Isla Negra and Viña del Mar, is one of the best areas for grape growth and wine-making. If you take one of our guided tours, you will visit several wine-farms, see the wine production process and taste some fine wines for export and competition.
Price: CH $55,000 pesos per person (US $117 dollars).
For further information about these guided tours, please contact us:  familyhostelstgo@gmail.com.
Valparaíso & Viña del Mar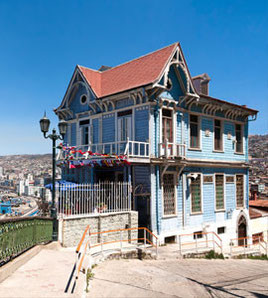 Valparaíso (City and Port), known as "The Jewel of the Pacific" (a World Heritage), and Viña del Mar, "The Garden City", are waiting for you! Its long stretches of white sandy beaches are a major attraction for national and international tourists.
Price: CH $34,000 per person 
(US $68 dólares).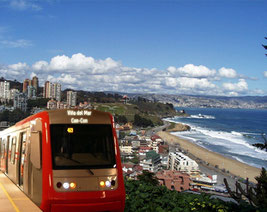 Reñaca, a beautiful beach and resort:
Come along to Reñaca Beach! The best place for students of Spanish and tourists who want to visit an excellent place by the sea. Reñaca is a tourist and residencial neighbourhood north of Viña del Mar Beach, and one of the most selected centres on the Central coast and in Chile. 
As expected of a summer resort town, there is a great range of wonderful hotels, apartment rentals, lively nightlife activities and excellent seafood and international cuisine restaurants.
For further information contact us:
City Tour Santiago
Discover Santiago and enjoy its traditional neighbourhoods, museums, historical buildings, interesting areas, shopping centers, parks and artistic heritage.
Price:$15,000 pesos per person (US $30 dollars).
Trips to Valparaíso, the Jewel of the Pacific:
Valparaíso is located northwest of Santiago and is one of the country's most important seaports.  Home to the National Congress, and considered a World Heritage Site by the Unesco, the port is surrounded by hills and picturesque neighbourhoods with cobbled streets, outdoor murals, handcraft fairs, art galleries, museums, pubs and Chilean/ international cuisine restaurants.  You should visit Pablo Neruda's House Museum and have an amazing view of the city. Also, the funicular elevators (cable-cars) are considered part of the world historical heritage.
For more information on prices and times, please contact us:  familyhostelstgo@gmail.com.
Trekking in the Cajón del Maipo and Wildlife Reserve:
A canyon and valley with rivers and native wildlife in the pre-Andean area.
An amazing adventure for the weekend!   Come and have fun speaking Spanish on a group day outing (6-10 students) to a beautiful place in the mountains. Activities include horse-riding, trekking, a visit to a waterfall, wildlife watching, typical Chilean lunch… and lots of fun! You can also stay in a cabin or hotel for a night (optional). There are different possibilities and prices to suit what you have in mind. Send us an e-mail telling us what you would like to do and we will send you different offers.   
This TOUR includes:
Pick up from hotel,  round-trip transfer, and two Spanish lessons (2 hours each)
Duration: Friday to Sunday morning.
Departure time from hotel: Friday 9:00 am
Minimum 6 tourists, up to 10.
A fun lesson including horse-riding, trekking, visit to water-fall, flaura and fauna watching. Typical Chilean lunch  
- Program: Friday Morning: Arrival at Cajón del Maipo Reserve (10:00 am aprox.). The tourist chooses an activity: horse-riding, trekking, visit to water-fall, flaura and fauna watching, etc. Lunch (optional): Typical Chilean food. Afternoon: Outdoor activities. Spanish lesson at coffee-shop (5-7 pm). Coffee-break. Saturday morning: Outdoor activities of your choice. Afternoon: Outdoor activities. Spanish lesson at coffee-shop (5 to 7 pm). Coffee-break. Sunday: Departure to Santiago 11 am. 
Note: This program does not include the price for the outdoor activities, lunch, coffee-break and hotel.                                                                                                                                                                      
Price: From $55,000 Chilean pesos (US$ 110 dollars).
Puerto Varas: traditions, lakes and adventure
Puerto Varas is an interesting city located in the southern Chilean province of  Llanquihue, in the Los Lagos Region, after a flight of 2 hours.
The city is well known for its German traditions, its food, its fish and seafood, legends, traditions, typical celebrations, architecture, the natural environment, landscapes, emerald green rivers, channels connecting lakes, its casino and 5 star hotels. Only 20 kilometres (12 miles) from Puerto Montt, it is located on the shore of the Llanquihue Lake, one of the largest natural lakes in South America.
The perfect cone of Osorno Volcano and the snowcapped peaks of Mt. Calbuco and Mt. Tronador are clearly visible from the lakefront. Puerto Varas is the southernmost of a string of typical towns on the western shore of Llanquihue Lake that includes Frutillar, Llanquihue and Puerto Octay. Together with the surrounding cities, Puerto Varas has various tourists attractions and it is close to sky resorts. In addition, it has excellent hotel infrastructure, wide variety of restaurants, cultural events. It is the departure point for fascinating tourist attractions in surroundings of dramatic geography turning it into the tourist capital of the Lakes Region.
                          Visit to the Planetarium of Universidad de Santiago
                         Guided tours to one of the best planetariums in Latin-America
                          Tour and Ticket: CH $24.000 (US$40)